May 14, 2013
Vietnam Net
VietNamNet Bridge – Hoang Anh Gia Lai (HAGL) Group has released an announcement to reject the information of the London-based environmental watchdog Global Witness on its occupation of land in Laos and Cambodia.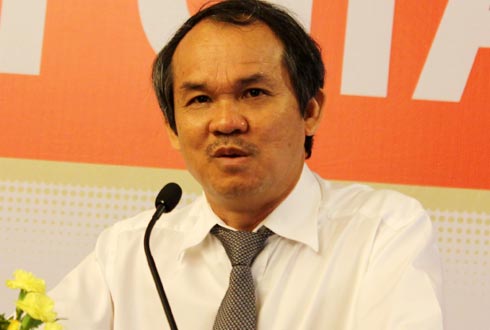 HAGL Group's Chairman Doan Nguyen Duc.
On its website, Global Witness on May 13 published a report titled "Rubber Barons: How Vietnamese companies and international financiers are driving a land grabbing crisis in Cambodia and Laos."
According to the report, privately owned HAGL Group and state-owned Vietnam Rubber Group (VRG) acquired more than 200,000 hectares of land through a series of deals with the Lao and Cambodian governments that lacked transparency. The report also said that this deal was backed by several international financiers, resulting in widespread devastation to the environment and livelihoods of locals.
Talking to VNE online newspaper on May 14, HAGL chairman Doan Nguyen Duc said the accusations were unfounded. "Global Witness may want to look for opportunities to promote its name and to get funds so it aims at HAGL. Many other countries are also investing in this area, but they just picked us because we do the best," Duc said.
He said so far, HAGL has never encountered such circumstances. "The biggest disadvantage is the report misleading our big shareholders. We are ready to cooperate but Global Witness did not provide specific evidence," said HALG Chairman.
According to a HAGL representative, upon receiving the information, the group invited the Global Witness to visit its rubber projects to clarify the matter. "They promised to see us in May and sent us 49 questions regarding the allegations. Chairman Doan Nguyen Duc directly answered every question, but in the end they did not come and sent the report to major newspapers around the world," the representative said.
The list of 49 questions to HAGL is not published for the reason of "internal circulation only." However, the HAGL representative stated: "Global Witness accusing Vietnamese groups of bribing the local governments to take land illegally is the insult to officials of the two countries."
Before releasing the report, they sent the information to both HAGL and the Vietnam Rubber Group. However, the Vietnam Rubber Group did not answer anything, the HAGL representative added.
In an official letter to the Ministry of Foreign Affairs and the press, HAGL confirmed that its subsidiaries that are investing in the field of rubber and sugar cane plantation in Laos and Cambodia have been fully compliant with local laws, including protecting the forest. Accordingly, HAGL did not involve in logging, including economically valuable timber in the concession area of HAGL. The governments of Lao and Cambodia have full control and ownership of the wood volume.
In recent years, HAGL built more than 2,000 homes for the poor and hundreds of kilometers of roads, electrical system, a series of bridges, many hospitals and schools in the two countries. At the same time, the group donated for the poverty alleviation programs in these countries.
According to Global Witness's website, this non-governmental organization was established in 1993 and currently has over 60 employees in two offices in London (UK) and Washington (USA). Their goal is to investigate and stop the conflicts, corruption related to natural resources, environmental protection and human rights abuses.
HAGL is Vietnam a private corporation, founded in 1993 and operates in various fields such as real estate, mining, rubber, rock, timber, hydropower and football.
According to the audited financial statements, in 2012, profit before tax of HAGL reached nearly VND525 billion (over $26 million), down nearly 70% compared to 2011.